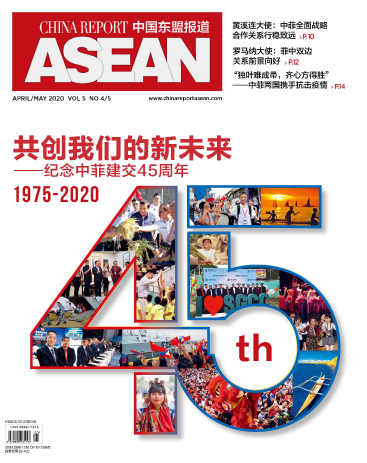 Directory Of Year 2020, Issue 405
EMBRACING THE RAINBOW TOGETHER
Year:

2020

Issue

:0405
Column:

Editor's Note
Author:

By China-Report ASEAN Editorial Department
Release Date:

2020-04-10
Page:

1
Full Text:
China and the Philippines formally established diplomatic ties in 1975. Despite twists and turns over the years, this bilateral relationship has been consolidated and enhanced through progress in practical cooperation across the board.
In 2018, Chinese President Xi Jinping made a historic state visit to the Philippines, "an ever-growing nation and home to an honest and friendly people." Leaders of the two countries turned the page on a new chapter of the Sino-Philippine comprehensive cooperation with extraordinary political guidance and personal commitment.
Historically, peoples of the two countries have enjoyed mutual understanding and friendly cooperation despite changes in the international landscape. For thousands of years, merchant ships sailed the Maritime Silk Road. Everlasting friendship has been nurtured since the King of Sulu's visit to China 600 years ago. Even in turbulent times, we have watched together for the rainbow after the rain. Relations between the two countries have entered a new era of cooperation and development with frequent exchange of visits, booming business and surging investment. The two countries are friendly neighbors and trusted partners with their interests closely intertwined.
In recent years, the China-proposed Belt and Road Initiative has aligned with the Philippine "Build, Build, Build" infrastructure program, a partnership that will help realize the Philippines' Ambisyon Natin 2040 vision. Remote regions have been linked with new roads. Paddy fields are now irrigated with clear water gushing through irrigation channels. Power plants provide energy day and night. Cargo ships load and unload at sea ports. Everyone seems to have a cheerful bounce in their step.
Today, the world is facing common challenges related to the COVID-19 outbreak. In this extremely difficult period, China and the Philippines have provided each other assistance and support in the spirit of mutual respect and solidarity. This partnership of the new era manifests a community with a shared future.
A Philippine saying goes, "A broom is sturdiest when its bristles are tightly bound," alluding to strength in solidarity. Through the joint efforts of the two peoples, we will surely welcome dawn and victory in the fight against the pandemic.
In commemoration of the 45th anniversary of Sino-Philippine diplomatic ties, this special issue of China Report ASEAN is packed with stories of bilateral friendship and cooperation. We look forward to the further development of the deep-rooted friendship between our two countries that enhances the neighborhood like the eternal fragrance of jasmine flowers.