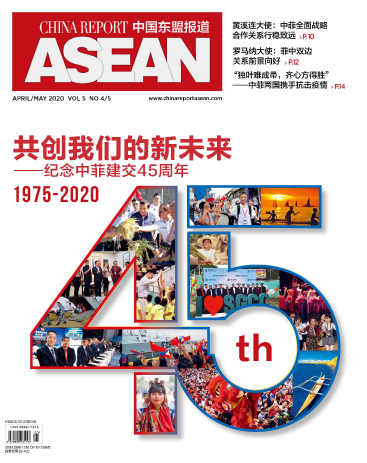 Directory Of Year 2020, Issue 405
BEAUTIFUL DAYS IN THE NEIGHBORHOOD
Year:

2020

Issue

:0405
Column:

Picturing the Times
Author:
Release Date:

2020-04-10
Page:

6-9
Full Text:
China and the Philippines are neighbors facing each other across the sea. Interaction and communication between the two countries began more than a thousand years ago. In recent years, under the strategic leadership of President Xi Jinping and President Rodrigo Duterte, China-Philippines relations embrace a "turnaround" to "consolidation" during a shift to a new chapter of comprehensive cooperation aligning with China's neighborhood diplomacy featuring amity, sincerity, mutual benefit and inclusiveness.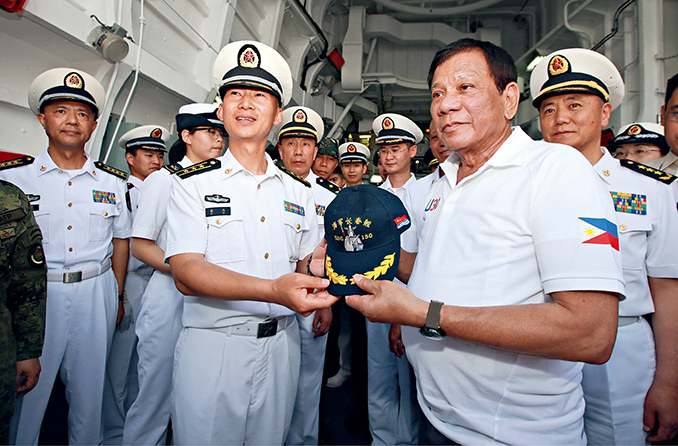 May 1, 2017: Philippine President Rodrigo Duterte (front right) receives a cap from Hu Jie (front left), captain of China's missile destroyer Changchun, aboard the Chinese warship docked in Davao City wharf of the Philippines. The Chinese navy made a three-day friendly visit to the Philippines.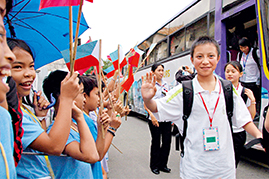 January 13, 2009: A delegation of 100 high school students from Wenchuan, the epicenter of the devastating 2008 Sichuan earthquake, arrives in a town in Bohol Province for a week-long tour of the Philippines.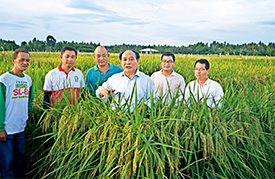 June 12, 2019: Zhang Shaodong (third right) and fellow agriculturists instruct local farmers on cultivating Chinese-bred tropical hybrid rice at a paddy base on Luzon Island. In recent years, Zhang and his team have worked to introduce Chinese hybrid rice technology to the Philippines and other Southeast Asian countries.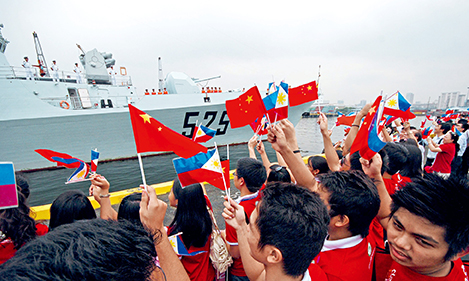 April 13, 2010: Filipinos welcome the Chinese navy at the South Harbor of Manila. A fleet consisting of missile frigate Ma'anshan, missile frigate Wenzhou and comprehensive supply ship Qiandaohu arrived for a five-day goodwill visit after completing an escort mission in the Gulf of Aden.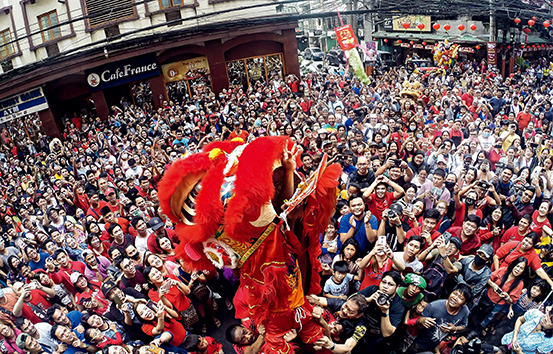 January 25, 2020: A lion dance performance highlights Chinese New Year celebrations in Manila's Chinatown.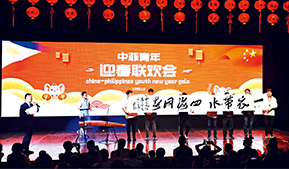 January 19, 2020: The China-Philippines Youth New Year Gala, co-sponsored by the Chinese students' unions in the Philippines, takes place at the Chinese Embassy in the Philippines.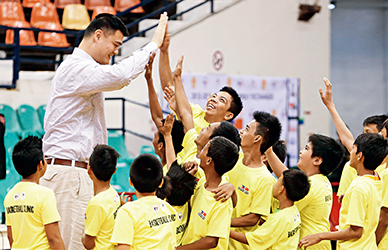 May 5, 2013: Former NBA star Yao Ming greets young basketball players during a visit to Manila. For two days, Yao's Shanghai Sharks played exhibition games against Philippine basketball teams.
September 7, 2008: Spectators from the Philippines pose in front of the National Stadium ("Bird's Nest") in Beijing, the main stadium of 2008 Olympic Games.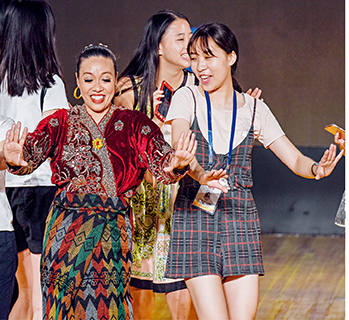 Traditional performers from Mindanao Island of the Philippines interact with spectators during the China-ASEAN Drama Week which kicked off in Nanning, Guangxi Zhuang Autonomous Region, on September 6, 2017. The seven-day event featured 40 classic plays staged by 24 art troupes from China and ASEAN countries.